Integrity Softworks is pleased to announce the immediate availability of a fully integrated two-way module for the next-generation smart climate control system from Hibersense.
Hibersense is the smart-home answer to the uneven heating and cooling many people experience from their current HVAC systems. Hibersense works with those existing systems, however, and is easy to retrofit. By tracking occupancy, temperature, humidity, light, and indoor air quality with the Hiber Sensor, the system is able to determine the current environment in each and every room of the home. The system then sends control signals the smart Hiber Vent to direct the proper airflow to each room to achieve the client's perfect target temperature.
Comfort "scenes" can be configured via the Hibersense mobile app, and can be triggered by a number of different types of events, like room or building occupation, or the time of the day.
It's like having a separate smart thermostat and individual HVAC unit in every room. Clients are raving about Hibersense's ability to improve floor-to-floor temperature swings, and even room-to-room differences.
Hibersense also improves the existing HVAC system's energy efficiency, showing savings by as much as 30% over the same system before Hibersense control was installed. By intelligently closing the vents to unoccupied or unused rooms, Hibersense can direct the heat or air conditioning to the rooms that need it most.
Designed to work exclusively with URC's Total Control 2.0 and later home automation systems, the two-way module developed by Integrity Softworks presents a familiar interface to monitor the current Hibersense system's status, and to enable climate scenes with a simple tap or button press. The driver also enables the programmer to retrieve individual room temperature and occupation status, as well as the whole building's occupation status, and the currently active scene.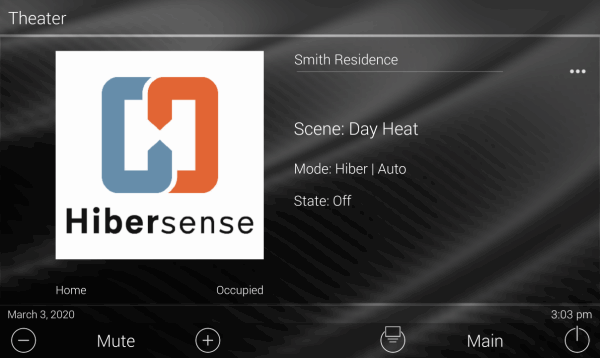 Automation options are also available to the integrator within URC Accelerator programming interface. Macros can be triggered by numerous Hibersense events, including room occupation, room temperature, building occupation, the current HVAC system's status, and scene activation.
The two-way module has been fully tested and certified by URC, and is available for immediate download at DriverCentral:

Integrity Softworks Hibersense Total Control Module